More Letters From Old Friends - Page 6

Email from Carina Betts:
Just stumbled on to your site yesterday and have already contacted a classmate after 18 long years !
My address is : 10173 NW 16th St Coral Springs, Fl 33071
Phones: Home (954) 340-2050 Bus (954) 346-8030 Fax (954)
340-9556

Thanks for providing a vehicle with which we can go down memory lane.
Carina Betts '79 grupo@gate.net
Email from Ric Lohman:
Thanks for the list. It appears to have arrived intact. My work phone is wrong, if you have a sec to correct it. It's (510) 475-3598. I'm going to contact EA direct to try and track down colleges on some folks. Was the "Dennis" listed on the EA web site, actually the headmaster at EA, or should I just write directly? Ric RLohman@compuserve.com
Email from Walt Perkins:
Been busy! Have heard from a couple of classmates and we are having a great time catching up! I'm taking your suggestion to clean up the alumni list. I'm putting it in a format the should be easy to load, by year, in the pages you have already set up. I'm starting with the list you sent me, editing it to remove old/extraneous info, and adding info as I get it/find it. The attachment is a first cut - see if I'm on the right path- tell me if I'm not and what I can do to help. All for now, keep in touch. Walt WALT_PERKINS@CCMAIL.orl.lmco.com
Email from Jezzell Griffith:
I check in every once in a while to see who new has shown up. I cannot figure out the "search by last name" page. Is it just a function of using AOL thatmakes me unable to get the search function? Next question: I received a message from Hiroyuki Nukiyama '78, and have tried a couple of times to reply, but the address doesn't work--has he been in touch, and left a working address to reach him? Any other alumni who might have heard from him, please let me know. Third question, why does my name not appear on the "alumni names '56-'80 page"? You do have me listed elsewhere... Thanks for all your work in keeping this "meeting point"-- you are doing a terrific service! It's so fun to hear from people you haven't been in touch with in 19 years and thousands of miles... Jennifer Griffiths Ezell '78 Jgezell@aol.com
Email from Bruno Santos (EAB):
O cara que cuida da HomePage da EAB tem um problema. Essa página ja ta assim há anos. No Big 4 a EAB ja se ferrou, não sei se a EARJ foi muito bem, pq que tava ganhando maioria dos jogos era a Graded. Bruno Santos bsantos@cd-graf.com.br
Email from Vikki Mueller Espinoza:
Wow! Thank you very much! What a great photo! It scanned really well. This was a nice way to start the week. I sent a copy to my sister. We can't thank you enough. We really appreciate your efforts. It's a nice photo too! Um abraco,
Vikki and Ali
Vikki_A_Espinosa@ccm.ra.intel.com
[Webmaster's Note: we produced a photo of Vikki's father's 9th Grade EA class]
Email from Marco Abdalah:
Howdy Bruce !!! Thank you for your input ! OLM page is still on a "beta" phase, wait to see the "final" release (which will include a guestbook and links to AASSA schools) in the next months. Keep in touch !!!
Marco Abdalah - OLM Webmaster

Email from Patrick Richoux:
Thanks to you, I've been hearing from EA "lifers" (kinder thru 12th) like myself that I have not seen since graduation in 1976. One of them sent me the attachment, espero que voce nao fique ofendido, mais eu achei muito engracado. Um abraco do irmãozinho do Jeff,
patrick patrick@richoux.adm.hd.co.harris.tx.us

Email from Linda Quering:
Did you come to Rio on the Moore McCormick lines (SS Brazil and SS Argentina?) I remember when Walt and Mom came back here for Walt's operation that they took the ship back down. Apparently there were something like 700 children on that voyage. I remember a real cute guy that befriended Walt and always seemed to run around with him. I also remember flirting with him. Was that you? Linda_Quering@notes.ymp.gov
[Webmaster's Note: The Moore-McCormack liners, SS Brasil (built by Ingalls on 9-4-58), and the SS Argentina (built by Ingalls on 12-9-58 - as were the Delta Liners, SS Del Mar, SS. Del Sud, and SS Del Norte), are still cruising the Caribbean today. The SS Argentina was the last US built luxury liner. Today it is the flagship of the Commodore Lines, renamed the SS Enchanted Isle. The SS Brasil is used by the Semester at Sea program. We're still trying to track down the Delta Liners. How many EA kids cruised on these ships?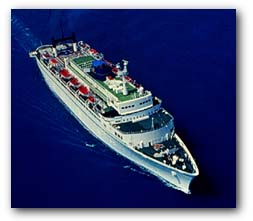 Email from Anette Westerlund:
Hello, I found out about the webpage from my brother - Christer Westerlund. I think that he found it by searching without knowing about it. It's a very good webpage and I hope to get in touch with some old classmates by it. That would really be nice. I have thought about finding them before but I didn't know where to start. I don't even know what country they live in, so this was a very nice surprise! I promise to visit it again. HAPPY NEW YEAR!!
Anette anette.westerlund@sefas.mail.abb.com
Email from Patrick Richoux:
No news from Jeff, but I hoping he will join the rest of us on january 24 to celebrate my parents 50th wedding anniversary. My sister is already in town and my older brother Bill will be arriving soon. Bill said that Jeff is still waiting to [see if he can] come to the family reunion. He if does come, I'll get him to check out EA's web page and your messages.
Patrick patrick@richoux.hd.co.harrix.tx.us
Email from Eddie Cohen:
Thanks for the reply. I would have graduated in 1968, but I only attended '59 - '61, during my 3rd and 4th grades. I went to Buenos Aires, Argentina for two years after that. I was browsing the Internet searching for various Brazilian sites, thought of the school, and found a hit. I should be traveling to Rio on business later this year, maybe on several occasions. It's not a definite thing yet, but a strong possibility.
Eddie ECohen@nspr.com
Email from Doug Musto:
Here's what I have here at work with me now, I only have email addresses:
'73 Evan Radcliffe Eradclif@email.vill.edu ?
'74 Lynn McCaughn UBRX60B@prodigy.com ?
'73 Susan Milbrath(Hazlehurst) MilbrathAG@aol.com Colorado
Springs, Co.
'75 Tony Stone astone@symantec.com ?
'75 Clayton Seeley clayton.seeley@hstn.pgs.com ?

Since I normally correspond to these people by email I'm not sure of their snail mail addresses, an embarrassing fact of this electronic age I guess. Anyway, I can probably come up with a few more and people who are interested can email them for other info. Thanks for the great page, keep it going.
Doug Musto
Member of Technical Staff
Adobe Systems, Inc.
San Jose, Ca.
dmusto@adobe.com
408-536-3897

Email from Maria Cristina Herrera Arnold:
Oba Bruce,

So queria saber si voce recebeu o meu e-mail sobre a revista BRAZZIL o nao? A revista so costa .25 centavos e e uma boa forma de matar saudades do Brasil e praticar seu portuguese. Espero que voce esteja numa boa e quando tiver tempo me deja saber pra sair da minha duda,
ta bom? Se cuida.Beijinhos
Maria Cristina Herrera Arnold ('75) sarnold@earthling.net
http://www.rain.org/~sarnold

Email from Miriam Jordan:
Hi webmaster! Please add me to Class of 1981.

Miriam Jordan
20 Nizamuddin East
New Delhi, INDIA 110013
EMAIL: mjordan@ndb.vsnl.net.in
Email from Allen H. Baker:
Please add my name and email address to the alumni listings under the class of 1980. Thanks, Allen Baker, bakera@hmc.harvard.edu
Email from Hank Font:
Bruce, I have two more email addresses of members of the 1956 class:
Pat Woodward, now Bennets - bennets@ctv.es
Ivan Legg - ilegg@msuvx2.memphis.edu
Ivan during his years in high school shot a role of film a day. What a resource. If I could find the photos I got from him, it would fill another web page. I will try to contact Ivan and have him get with you. My favorite Brazilian song says, ' Tristesa, porque nao va embora..." How true. Some of my Spanish might be involved. I will see you soon. Hank Font '56 Hankyfont@aol.com
Email from Kimnada Bobb:
Thanks for the note. I think this website is so wonderful. Thank you so much for creating it and getting it all started. I am finding old and new friends from EARJ.
Abracos,
Kimnada (Bobb) Williams, '90 KWilliams@mail.manassas.k12.va.us
Email from Eddie Cohen
Thanks for placing my name on your website, but I would have graduated in 1968 if I had stayed there. I attended during the years of 1959 - 1961, then went to Argentina and Uruguay for two years each.
Eddie ECohen@nspr.com

Email from Luis Almeida:
Great initiative, my friend! Besides the content, which strikes a very strong chord, the format is excellent. There is a lot of information available in a very pleasing presentation. I think you might be ready to quit your day job and go in to consulting.

Anyway, I tried to mention as many people as possible in my message. I've turned David Morse on to the site and he promised to sign the guest book soon. I don't know if you had the opportunity to meet Mr. Morse, but his father was principal at EA from the Mid 70s to the late 80s. His email address is dmorse@techdata.com. You might want to send him a note, because it would be important for a lot of people to hear how his family is doing. I've book marked the site and will definitely be a regular. I will be sure to let everyone know of any news flashes concerning other alumni. Once again, great job and thank you very much.

Luis almeidal@viewsonic.com
Email from Cindy Oronato:
Just wanted you all to have my new e-mail address.

conorato@snet.net (Must be all lower case) Take care all!
Cindy Onorato

Email from Ben Borwick:
hi bruce,
thanks for the note

yeah, i graduated in 70 but i dont remember you and when i looked thru the carioca 70 i couldnt find you....were you there for the whole year? i was at ea from 68-70. well while you were drying out we were baking here in rio this summer, really awful, 2 months of 40 graus na sombra, must of been el nino...
but i sure remember a lot of the people you mentioned...i worked with ricky smith in the construction of the sheraton...knew eva kozlovska pretty well...and certainly tony bauman, rogerio, ann strickland.

just found my best friend in that class on the internet...mark mactague...there are several mark mctagues but fortunately he listed ea as a reference...i see mimi gjorup once every few years...will spread the word about your site...
abraco
ben borwick@antares.com.br
Email from Brian J. Dooley:
Bruce--
Yup, my info is just fine. Thanks for all your efforts in setting up and maintaining a truly fascinating resource. EA was always a transitory community, and it certainly works as a "virtual community."
Cheers,
BJD bjdooley@southern.co.nz
Email from Geri de Souza:
Thanks so much for Jen's address.

Here are two others for you files that you may not have:
Lolly DuBose Swanson (class of '78) 75757.312@compuserve.com
Valerie Sutter-Remy (French & history teacher) valsutter@juno.com

Dr. Brown just casually dropped it into an e-mail that he wrote that there was a web-site for EA and that he was enjoying it so much. I got on to it immediately and it was wonderful to make that connection. I particularly liked seeing the picture of Cabral. The one in his Kibon cap brought back lots of memories of the old school when Cabral used to be outside every day. And the other made me think of the days when my son, David, (went to EA for ECE through 3rd grade) felt it was his civic duty to support Cabral and spend ENORMOUS SUMS on snacks. We were always amazed that anyone could eat so many "sonhos" in one snack period.

Keep up the good work. It's a fun page.

Geri de Souza
Xanadu@iname.com
Email from Michelle Gallagher:
I would be delighted to help you with any information you need from EA and EA alums. I was online for almost 4 hrs las night cruising the page and I had tears in my eyes from all the memories. EA was definitely one of the most important parts of my life.

When we were in highschool, our class created the '91 ZC (Zone Committee) and that's how we always referred to ourselves...hahaha You can imagine the handful we were, but it was actually a class of very smart and talented people and I will be forwarding the web page address to all of those I am still in touch with.

I will try to get Cabral's address from EA this week and I'll let you know. Please let me know if you need anything else.

All my best,

Michelle mgalla@rio.nutecnet.com.br
Email from Christer Hultberg:
Hi, I went to the school in 1980-83 i would like to be on your list.

Christer Hultberg chh@home.se Sweden +4649335059
Email from Christiaan Oyens
I'm a member of the EA class of '83. Feel free to include me in your site with all my info. Best regards,

Christiaan Oyens
R. Paulo Mazzucchelli, 120/210
Barra da Tijuca,22621-190
Rio de Janeiro,Brazil
(021) 494-4226 coyens@unitech-net.com.br
Email from Joe Musgrave:
I just wanted to pass on to you that I would be more than willing to help organize the 2000 Reunion. I would also like to recommend the D/FW area for the reunion. It is, of course, a major airline hub and without doubt not short supply of hotels and activities. Having lived there for the last 13 years up until last year I am well familiar with the area to be able to set things up. My folks, sister, and one brother live there so I have all the ability to get things accomplished there.
Came across this site the other day and though you might like to check it out for inclusion in the "matar saudades" section. http://www.terra2.com/home/links/brazil.html
On another note, I clicked on the link to download the class list and it could not find the URL on the server. Thanks,

Joe <jmusgrave@hotmail.com>
Email from Fernando Sequerra:
Thank You for the nice home page you have produced. I would be more than pleased if you added my name.

Fernando Sequerra
Av. Prefeito Mendes de Moraes 1400 Bl 1 / 1003
Rio de Janeiro
sequerra@rio.com.br
(021) 322-0800
(021) 322-0621 (fax)

Office:
Sequerra & Sequerra Comercio Internacional Ltda.
Rua Teofilo Otoni 52/13
Rio de Janeiro
518-1717
233-9101(fax)

thanks,
Fernando Sequerra sequerra@rio.com.br
Email from Bob Sharpley:
Thanks for listening. I had a message that it had delivery problems so figured you wouldn't get it. Thanks for your understanding. I would venture to say as well that most people associated with EA would feel the same way you and I did. Please don't take any of the comments I made as an afront to anything you've done. I visited the other EA sites and see that what you've done is by far the best and most comprehensive. I appreciate the service you provide. For the recent contact with Ruth Judd and Joe Musgrave I thank you, your page made that possible. Thanks again for listening. I didn't mean to infringe on your freedom's. I just wished there was a way to lend a clue to the person who posted the article:-)

The problem with the messages I run in to the same thing on my page. An offender can't be dealt with until they are an offender.

Peace

@ Bob Sharpley <sharpner@metrogate.com>
Email from Ruthie Judd:
I couldn't resist reading your work. [referring to my wife's homepage and links]
Now about your paper and work-very well written! Like most well researched papers, they raise more questions than answers. I am one of two teachers on the Technology committee. We are trying to get our school to plug into the internet. Would you mind if I quoted some pieces of your work? - (the part on advantages of the technology would bring)

Are you working on your Masters or Ph.D.? [webmaster: Ph.D.]
I saw a friend from Rio over the weekend. We had a super reunion. Joanie and I reminised while touring the War Memorials. I can't thank you enough for the Web Page - I am so blessed by the great friends I had and now have again.

Abracos e beijos,
Ruthie
stefanr@bealenet.com
Email from Eric Emerson:
How about something between Xmas and New Year's in Rio. Booking a place on New Year's would be near impossible and I think people would rather go out to Copacabana and other places that night. I'm trying to get reservations now. There are a bunch of that have gone up on Leblon, Ipanema, and Copacabana beaches since you left. Just a thought.

Eric '77 vemerson@ibm.net
Email from Karla Redig:
Congratulations on your award, one more reason for us to be proud of the wonderful job you are doing. You really deserve it.
Abracos,

Karla karla@marlin.com.br

Email from Alessandra Chiareli [EAB Webmaster]:
Thanks a bunch for the info, Bruce! That's what networking is all about. It will be great to chat live with our friends to plan this reunion. I will follow your instructions and try to set up our chat room this weekend.

Um abraço,

Alessandra. chiareli@visi.com
Email from Leslie Ellis:
Hi Bruce. I really love your website and appreciate all the time it must've taken to put it all together. My son has created himself a very rudimentary web page, and I know how long it has taken him to get it together. I heard about your web site from some friends of my parents, Walt and Joyce Wade. They have 3 kids, 2 of which are named Craig and Nadine ( I can't remember the other boys name). They were in Rio in the late 60's, but I can't remember if either of them graduated from EA or not. I am still in touch with one other family of kids who went to
EA and I will tell them about your website. Their last name is Bado. Rick graduated from EA in '70 and Bob in '72 or '73. Their sister Peggy did not finish at EA.
Yes, I remember your sister Mercy. I think we were in the 5th grade together. The main reason I remember her is because she was the first person I had ever met with that name! I remember making friends with her, and I may have a picture of her at my house for a birthday party. I don't know if the picture is labeled or not, but if it is I will send you a copy of it to give to her.
Congrats on your website. I'll do all I can to spread the word about it! I have not been back to Rio since I left, and I would love to go, so this is a nice way to pay a visit.

Thanks,
Leslie Ellis Brinson
PS My e-mail address is lbrinson1@juno.com
Email from Maria Cristina Herrera:
Just wanted to congratulate you on receiving the Sunshine's website award. You do have a dynamite website. Keep up the excellent job. By the way has the site for the reunion of the year 2000 been picked or not? What about the yearbooks, can we order or not? Well keep me posted,O.K. Take care.

Beijinhos
Maria Cristina sarnold@coyote.rain.org
Email from Michele (Mike) Mancini:
It's, been a long time since last time I wrote you. Today I wondered around the net and I found a lot of new improvements on the EARJ page. You really spend a lot of time working on it, don't you? It's nice; I wish I couldo do something to help EA page growing, but actually I'm too busy. I've been looking for some pictures I had of EA during 1975/1981, but it looks like my Mum's lost them. Your EA Web Page has helped me to find some old friends, and I'm looking
forward to find some others every day. See you ..... ( better "read you") soon.
Mike (Italy) mi.mancini@agora.stm.it

Email from Karen Suhr:
Hi! I am old EA student, I'm looking for Nancy Bertao. I left Rio in '67 and was a Junior. I'm living in Belgium now. Look forward to hearing from Nancy!
Beijos, Karen Suhr (now married to Englander, Michael) michael.englander@skynet.be

Email from Regina Duarte:
I attended EA when I was 4 years old (1964),and the school was in Leblon. I graduated 15 years latter in EA Gávea (1979). I guess I'm the alumni that stayed the most time in school!!! Practically my whole childhood and teenage years!!! I had a lot of fun!!! I'll try to send you photos I have from the yearbook and others from our field-trip to Campos do Jordão and the day-off in São Conrado's beach. As I'm not so familiar with computers, I'll try to send 3 photos now...if it comes to be out OK, let me know and I'll send more if you wish. Thanks for listing me in class' 79, Regina Duarte. pepe@virtual.com.br
Email from Eric Emerson:
Here is an attempt to send a Sunrise Over Rio picture. If you get it send me a response to the office address (eemerson@unocal.com) so I'll know in the morning (My 6:30 am is your 5:30 pm the day before). Bruce Hogarth, William (Bordo) Sharpley, Pieter Oyens, and myself, climbed Pedra da Gavea one night (we started after midnight) to get this foto of the sunrise for our yearbook.

If this goes through I'll send a picture of Pao de Acucar tonight.

My big question about sending pictures via e-mail is: All formats viewable on the receiving end or do they need the appropriate software? [Webmaster: best formats for the internet are .jpg and .gif - they also show up in email]

Eric vemerson@ibm.net
Email from Kenny Mertz:
Just happened to take another look at your EA web page today and noticed the new format... and the bulletin board. What a great addition! I just posted two messages. Thanks for all your work!
Kenny KBMertz@aol.com

That's all for now.
---