Evan's Party - 50th Anniversary Celebration - Page 1
The 50th Anniversary spawned private parties all over Rio. Not all hosts were kind enough to invite me to their gatherings. What to do? I CRASHED the party! Just like in the good old days! Talk about matandoing saudades! Here are some photos of the party given by "Evan." Here, Carla French ('68) and Lynne Udall ('68) ask me what I am doing there. Lynn is drinking Guarana', I hope.

Mercy Stirling ('69) and Sue Strickland ('66) realize they studied guitar under the same instructor. Sue still takes a lesson every time she returns to Rio!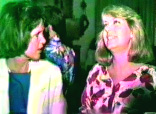 Carla French ('68), Mercy Stirling ('69), and Sue Strickland ('66) all sing "The Seine," the first song they all learned to play on the guitar.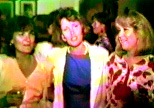 Evan 's (last name unknown) house, is located up against Dois Irmãos in a tall predio on the same street that Suzie ('70), Mike ('65), and Steve Kent('66), and Nick ('66) and Randy Weyland ('70) lived on. The Simonpietri's once lived up above, next door to David Mean's family. They turned that steep hill into a BUS street! The Kent and Weyland houses were torn down. Huge apartments on the lots now.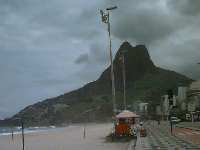 More Photographs of Evan's Party!