Homenagem to Mrs. Ruth Stanton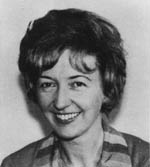 Mrs. Ruth Stanton
1963
Mrs. Stanton was the mainstay of E.A.'s extra-curricular activities. No project was too small to warrant her attention, nor too large for her to direct. Aside from teaching four levels of speech at E.A., she also directed the Varig and Eagle Cup Meets, the production of countless E.A. plays, the near-professional Talent Shows, as well as the Fashion Shows. If you know of any great stories of what went on "behind the scenes," we'd love to see them published on this page. Scroll down to add and to read Mrs. Stanton stories.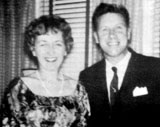 Mr. and Mrs. Stanton
for your hospitality. . .
for your interest in us . . .
for your charm and special talents . . .
for the inspiration and encouragement you gave us . . .
for the lasting influence your lives had on our lives . . .
the Alumni of E.A. honor you.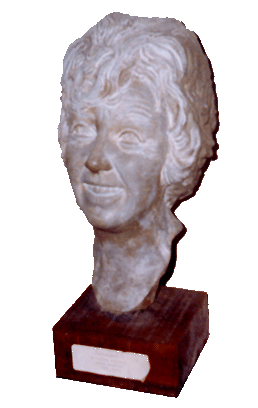 Photo courtesy of Dara Neeley Randolph
via Kenny Mertz
---
Please tell us your favorite memory of either Mrs. Stanton or of one of her plays, your role in it, etc.
---
Date:

21 Jun 2003

Time:

13:45:04

Remote User:
Comments
Looks like I'll have to start things off. Mine is a nice memory of attending the EA plays directed by Mrs. Stanton. My sister, Penny, was in "Bye Bye Birdie." I enjoyed EA's stage production much more than the movie. All except Ann Margaret, of course! Bruce Stirling - PS - this book will NOT add your name unless you type into the body of the message. Please remember to do so.
---
Date:

25 Oct 2003

Time:

00:41:59

Remote User:
Comments
We lived in Brazil from 68 to 75. First in Sao Paulo and Rio from 73-75. We haad 3 young children of which two started at EA. Ruth Stanton was a gem of a lady. I was very involved in helping with the school plays. I remember one particulary. Oliver. I did the makup for the kids I remember doing the makeup on the character, Mr. Bumbles. Unfortunately I can't remember his name. Ruth was the heart and sole of the community theater group that my husband and I were involved in. During those years we did Born Yesterday, Fantastics, Harvey and Mame to name a few. Ruth played the part of Auntie Mame. She was definately that person in real life. She gave tons to EA and was truly dedicated to her student. Please tell me what evolved for her and Ed. I often think of those wonderful days. One day I will get back there. We have friends that still live there. Connie and Barry Gluck Thanks for this E-mail site. Donna and Bob Moore Rochester, NY
---
Date:

29 Oct 2003

Time:

16:03:20

Remote User:
Comments
October 29, 2003 Another Ruth Stanton fan from the early 70s (hi Donna and Bob). Have never seen another teacher anywhere more dedicated to her students, and accepting of them as contributing adults, than Ruth. Memories of her appearances in The Little Theatre productions (notably, "40 Carats") are priceless. All who were there will know what I mean! Ed, if you're reading this -- please get in touch! Susan Latuszynski (SusanL@foodscience.com)
---
Date:

31 Jul 2004

Time:

16:03:23

Remote User:
Comments
I'd never acted when I showed up at the try-outs for "Our Town" as a senior in 1963. I figured I'd get a tiny part if I was lucky, maybe Howie--wasn't he the milkman? But Mrs. Stanton asked me to read for George, the male lead. I got the part. This led, of course, to my having to take her drama class. I still remember preparing my scene for O'Neill's one-act "The Hairy Ape." And all this led, of course, to that warm, rich, supportive relationship that everybody who had anything to do with her had. And it led to all those great relationships with others in the play, Paul Lunsford (are you still out there?), Brian Damude, Suzanne Kaptain (my first public kiss)--we all really felt part of something special. As I clicked on this page and Mrs. Stanton's picture came up, I remembered every bit of that. A fine woman, who probably helped make me who I became--the good parts, that is. Nick Boke '63
---
Date:

25 Sep 2004

Time:

23:13:13

Remote User:
Comments
i remember her charm bracelet, her house in joá where we had the cast parties, and much more about the wonderful person she was.
---
---
Created by Bruce Stirling '70
Copyright © 1997 by Bruce Stirling. All rights reserved.
Revised: 28 Feb 2005 20:43:59 -0500 .