Jungle Views of Campus
The Escola Americana is located at the edge of the Tijuca National Forest in the district of Gavea. If visiting Rio, you can skip a trip to the Jardim Botanico because you'll find every plant right on campus! Here, a tropical jungle stream emerges from the exotic plants to run through the school.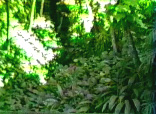 The sound of running water is always present, which must be soothing to those students coming to class prepared. It must be like "Water Torture" for those who claimed they couldn't do their homework when the electricity went off.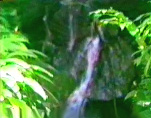 More jungle water streaming through campus.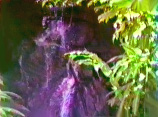 Leslie French ('67) and Pierre Simonpietri ('68), while attending the 50th Anniversary Reunion, were amazed at the beauty of the surrounding landscape. Pierre commented, "Can you imagine the romance of this school?" Leslie said the students of her day would never have emerged from the bushes to attend class! Ahhhh. . . The good old days . . . . don't tell the kids.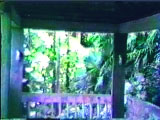 Go to next 50th Anniversary Page