Evan's Party - 50th Anniversary Celebration - Page 2
Dr. Eric Sweet ('63), now a neurologist in Rio, is the older brother of my former classmate, Carl Sweet ('70), and also the brother of Astri Sweet ('65). Rumor has it that Carl actually climbed Mt. Everest! I think I taught him everything he knows on the front side of Dois Irmãos. . . . Just kidding, Carl. Astri said she has her own translation business in São Paulo.

We all felt like we had entered a "vortex" of some kind the night of Evan's party. Then again, it could have been that cheap wine we took to grease our way through the door. Here is Mercy again, trying to pretend she was really invited. Sue is laughing because she knows Mercy is lying.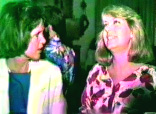 Carla French ('68), Mercy Stirling ('69), and Sue Strickland ('66) trying to remember guitar chords to "The Seine," the first song they all learned to play on the guitar.

Mercy being invited to leave the party; the wine she brought was too cheap.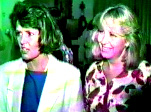 More Photographs of Other Things