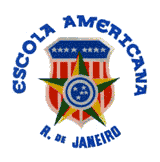 50th Anniversary Celebration - Page 5
Gerry Ruszkay ('70) was a former classmate of mine, daughter of Mr. Ruszkay, longtime EA teacher. After figuring out we both skipped and actually graduated in '69, we named off a few old classmates and remembered we were in the same class! Gerry's in California, I think.

Mercy Stirling ('69) lording her Kibon sign over the rest of us.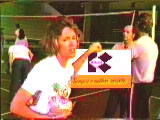 Scot Stirling ('72), who also really graduated in 1971, tries to take charge during the alumni volleyball game. Note the EA Panther in background. Notwithstanding Scot's and Robert Morris's best efforts, I think they lost the game. Scot did put Valdir Boccardo to shame from the free throw line, though. Valdir's son was there, too. Very big for his age.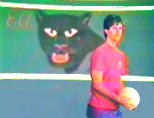 Sharon and Sheila O'Day watch the volleyball action, and talk with old friends. No website about EA would be complete without the O'Days, whose family has been in Brazil for 5 or 6 generations since the 1800's! I think there was an O'Day at the Grito do Ypiranga!

More Photographs of 50th Anniversary!