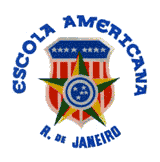 50th Anniversary Celebration - Page 4
James Connell ('62) worked his way to the front of the line just to get into this shot. James Henry Connell, IV, is from Miami, Florida. According to the yearbook, his main interests (other than trying to get into all my photos) are sailboats and spear fishing.

One of three Fitzwilliams, Sue, Dave, and Pete, to make it back to the reunion. This is retired Navy Captain Pete Fitzwilliams. He said he should have been in the Class of '52, but he did not graduate in Rio. A group from the Washington, D.C. area went together, including a Ms. Perkins, whose name and phone number were edited out of the video!

Dave Fitzwilliams, EA class of 1949, the same class as Billy Horn! Welcome back. These guys apparently, according to Ms. Perkins, get back to Rio periodically to "matar saudades." Let me know when you're going! See Ms. Perkins on page 7.

Group shot of Jane Damude ('65), Corinne Coffin ('63), my sister, Robin Stirling ('68), Barabara Moorby ('65), and Virginia O'Donnell ('65), with her son, Paulo. They're looking over Jane Damude's 1965 yearbook and watching Robert Morris (not Bobby anymore) play volleyball.

More Photographs of 50th Anniversary!