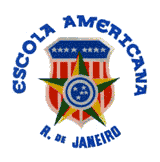 50th Anniversary Celebration - Page 2
Always on the lookout for a "lembrança do Rio" and ready to "matar a saudade" any way she can, Mercy Stirling ('69) shows the rest of us her spoils after her visit with Cabral! We were jealous. I believe the Kibon sign is now in Guadalajara!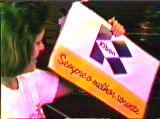 Henry (Hank) Font ('56) confides his four years in "Beginning Portuguese" with Mrs. Metzler is still an unbroken record! Mais êle ainda fala!

Robert Lee Morris ('65), now world famous for his jewelry designs and creations, came down from New York to play in the Alumni Volleyball Game.

Former towering basketball center for EA, John Bash ('63), came all the way from Africa, just to be with the old "turma." He went out to Gavea Country Club, where after all these years, they let him roam. He made a killing in the Pro Shop buying Gavea golf shirts. I think John had a very good time in Rio.

More Photographs of 50th Anniversary!